Green Gobbler
Blocked Drains? Clear the mightiest drain clogs with Green Gobbler Drain Opening Pacs.
Unblock clogged hair in your shower drain, break up food stuck in your kitchen sink, or even get rid of that disgusting stench in a porta potty or caravan toilet.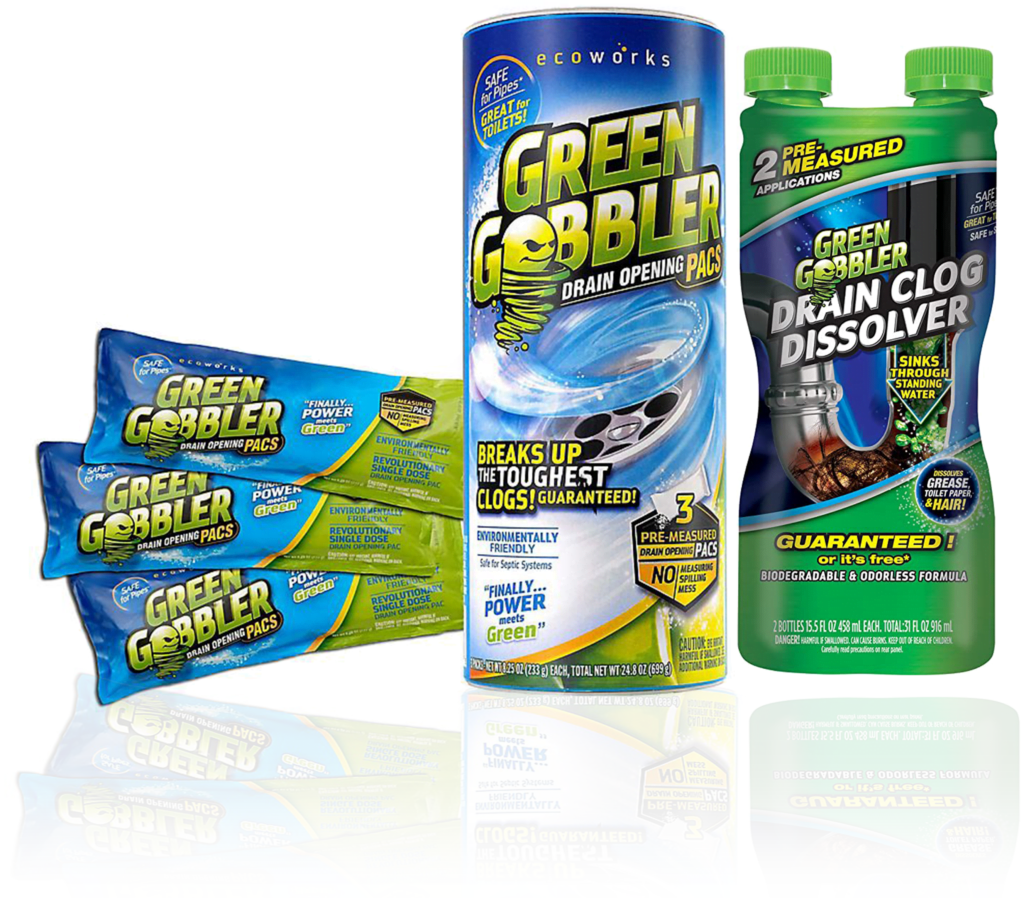 Green Gobler Keeps Your Drains Clean
Ultra think formula clings to pipes to keep them working
Dissolves Paper
Breaks up Soap Scum
Obliterates Sludge
Liquifies Hair
Drain OPening Pacs
Green Gobbler PACs liquefies hair, paper, scum and other organic materials while protecting your drains and the environment.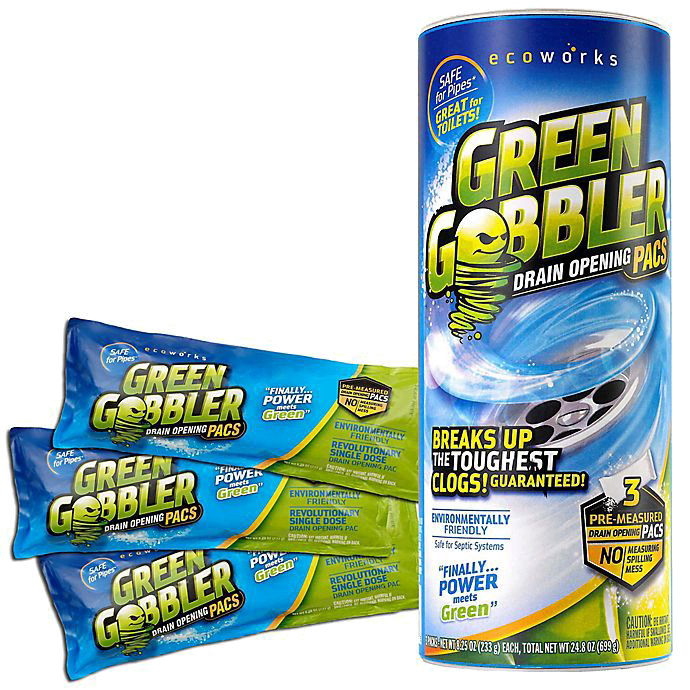 Safe on Pipes & Porcelain
Drain Clog Dissolver
DESCRIPTION
Need something a bit stronger?
The Green Gobbler Drain Clog Dissolver liquefies the toughest organic material including hair, grease, oil, fats and sludge. And be assured that it won't damage your drains, pipes and septic systems.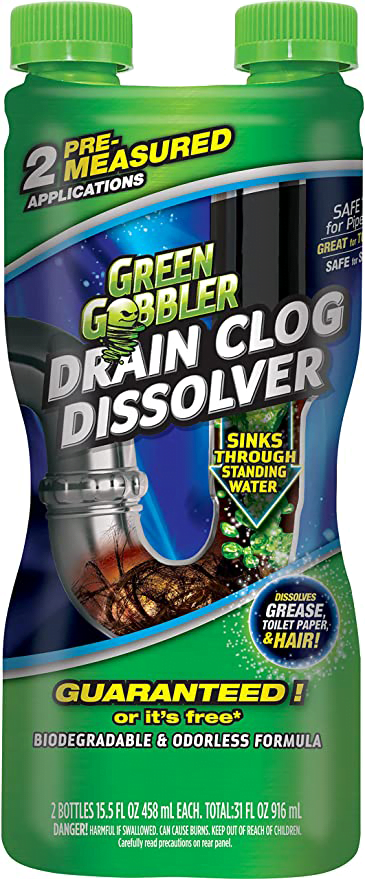 HOW TO USE?
1. FIRST STEP
Pour one chamber slowly into drain and allow to sit in drain for at least 30 minutes. For toilets pour both chambers.
2. FINAL STEP
Let stand for at least 20 minutes and then flush with the hottest water possible. For toilets, let sit for at least 2 hours or overnight and flush once water level returns to normal.
Safe on Pipes & Porcelain
2 Pre Measured Applications
Drain Cleaner & Deoderizer Sticks
Bio-Flow Drain Strips are designed to eat away at organic matter in your sinks, leaving them clear and smelling fresh.
Use one on a monthly basis to see the slow-dissolving bacteria and enzymes get to work instantly to keep your drains clean.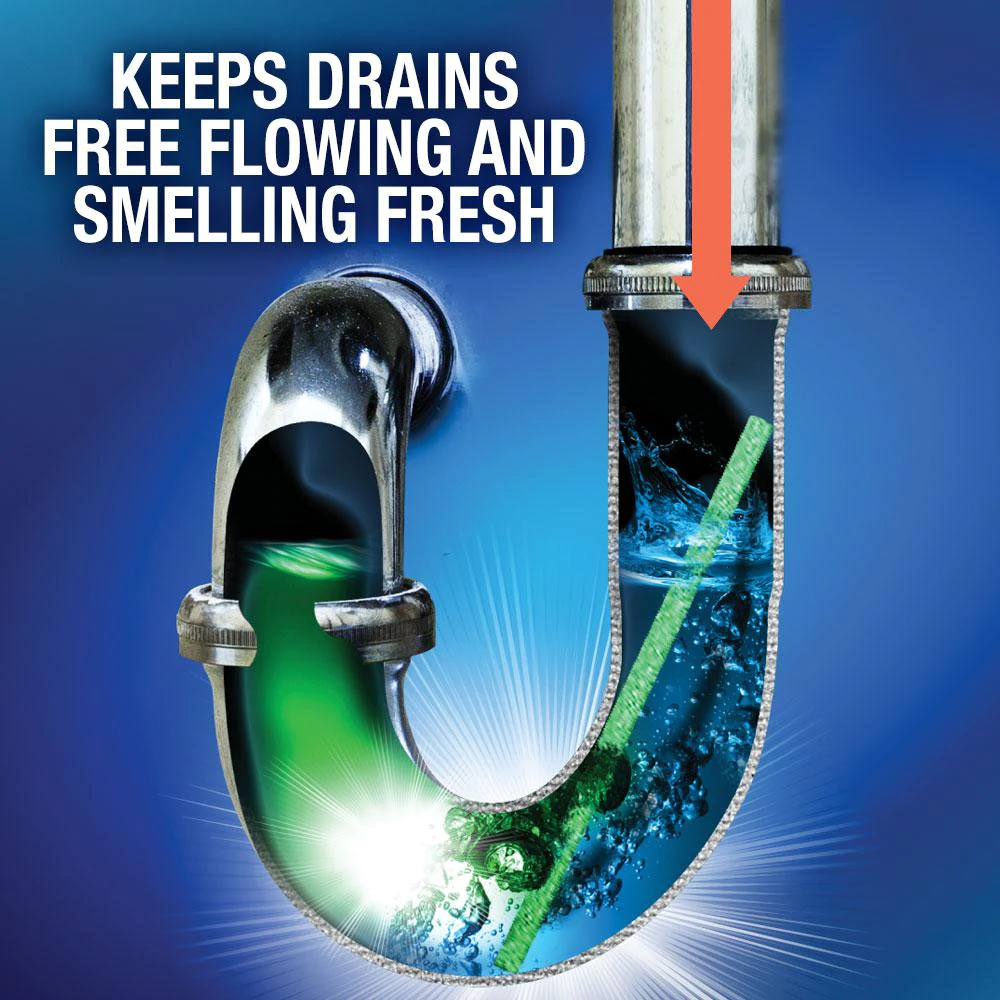 Safe on Pipes & Porcelain